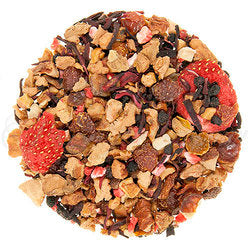 This delicious blend of Strawberry and Fruit flavor creates a reminder of Spring and Summer.
Luxury Ingredients: Apple pieces, Hibiscus petals, Rosehip + Elderberry + Banana + Strawberry pieces, Natural flavors (organic compliant).

Tea(s) From: Turkey / Chile / Egypt / Thailand / China
Region(s): Anatolya / Patagonia / Nile River Delta + Fayoum / Petchabun / Shandong
Antioxidant Level: Low
Caffeine Content: None - Caffeine Free Herb and Fruit
Steeping time : 1tsp per 8oz water. Steep 5 mins @212F
2.6oz bag makes 25-30 cups.