Our Tea room is now open !
Join us for an elegant afternoon tea !
Our tea room is now open. We serve English Afternoon tea, light breakfast items, deliciouse sandwiches, paninis, soup, salads and fresh baked pastries and desserts. Walk-ins are welcome. Reservation recommended. Patio is open.
SereniTEA's tea room
207 Park Lane, Estes Park, CO 80517
(Next to Bond Park)
www.sereniteastearoom.com
970-502-8761
Summer Hours :
Monday to Saturday
10am - 3pm
Sunday 11am - 2pm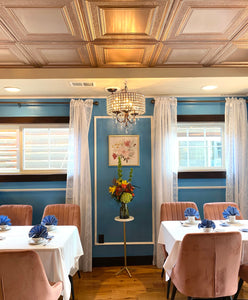 Fall Harvest Afternoon tea
Join us for a special Fall menu
Reserve your table on our tea room website sereniteastearoom.com or call 970-502-8761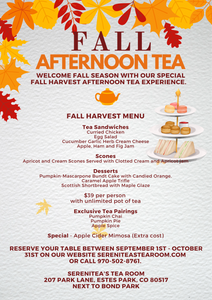 Fall teas are here

Order your favorite teas now.
Building relationship one cup at a time.
Building relationship one cup at a time.
Testimonial
This is a lovely little tea shop. Shopping for tea and smelling all the blends was a great experience when I was in town. The tea  is great! Since then, I have also ordered online and had more tea shipped to me. Shipping was fast and they even included a bonus tea sample.

Sarienne J.
This place is a gem, and their teas are the best I've ever had. I'm completely addicted to them. This was my best find in Estes Park. I will be ordering from them plenty of times in the future

Carlos W.
"SereniTea located in a beautiful town. My first impression was when I walked in the store, there was a large selection of tea. The store layout was very appealing. The owner was very knowledgable and attentive. The tea itself was amazing, nice packaging, it smelled good, and it tasted even better"

Mon M.
"Ever since I found this place years ago, they are my go-to for all my tea needs. I tend to go to Estes Park often enough that I don't take advantage of their delivery options, though I sometimes travel there just for the tea"

Joseph B.
Incredible and cute tea shop! Come here for some great quality and real tea. 

Enrique N.
Really love the tea I got from here. They were also super kind and helpful when I went into the shop. I got the peach honeysuckle and it's so yummy alone. My kids love it too.

Michelle H.
This is THE BEST tea shop and a hidden gem in Estes Park, Colorado. Daisy - the owner - is super knowledgeable and an expert tea blender. Whether it's a de-stress tea, or the Rocky Mountain Blend, each tea is masterfully blended to bring you a unique flavor profile. Please do yourself a favor and relax by the river with a soothing cup of tea made just for you.

David B.
Best tea shop I've ever been to! The teas are delicious and the owner is really sweet!

Jinglejangle
Had oolong and goji, flavors so perfectly balanced.

Mi Rice