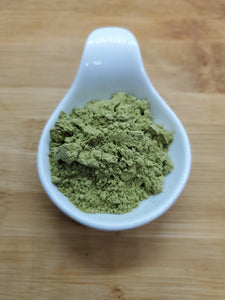 Has a jammy-like smoothness with a very satisfying full cup. Luxury grade style Japanese green tea and Gyokuro gives a light astringent finish.
Luxury Ingredients: Green tea 
Tea(s) From: Japan / Kenya 
Region(s): Kagoshima Prefecture / Nandi Highlands 
Antioxidant Level: Very High 
Caffeine Content: Medium
Steeping time
For the best result use Bamboo whirst and Matcha bowl. Milk and sugar recommended.
1.7 oz bag makes 20 cups