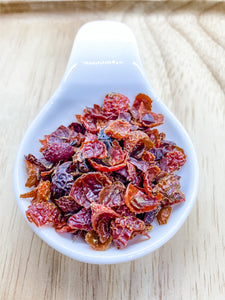 Rose hip teas don't contain rose petals, but still feature a delicate floral flavor with a tart aftertaste. Here are 3 ways rose hips can benefit your health.
1. Can be used as a "stomach tonic" for intestinal diseases.
2. May fight skin aging.
3. May reduce inflammation and pain.
Tea(s) From: USA
Antioxidant Level: High
Caffeine Content: none
Steeping Time: 5-7 minutes
2.5 oz bag makes 25-30cups
1 oz bag makes 15 cups